Small-brand innovation and the rise of powerful beauty gurus are revolutionizing the way many people think about makeup, and consumers are responding in a big way. In 2017, the beauty industry was worth $445 billion, and that number only continues to rise.
So with product launches dropping almost every day, which brands and colors have reached true "holy grail" status? To find out, we dug into the r/MakeupAddiction subreddit to discover the hype. For this project, we analyzed over 11,000 unique images and identified 884 shades from brands like NYX, Urban Decay, Tarte, and more. Beauty trends will come and go, but you don't need to be a guru to know these products should probably be in your collection. Read on to learn more.
Upvotes on These Makeup Trends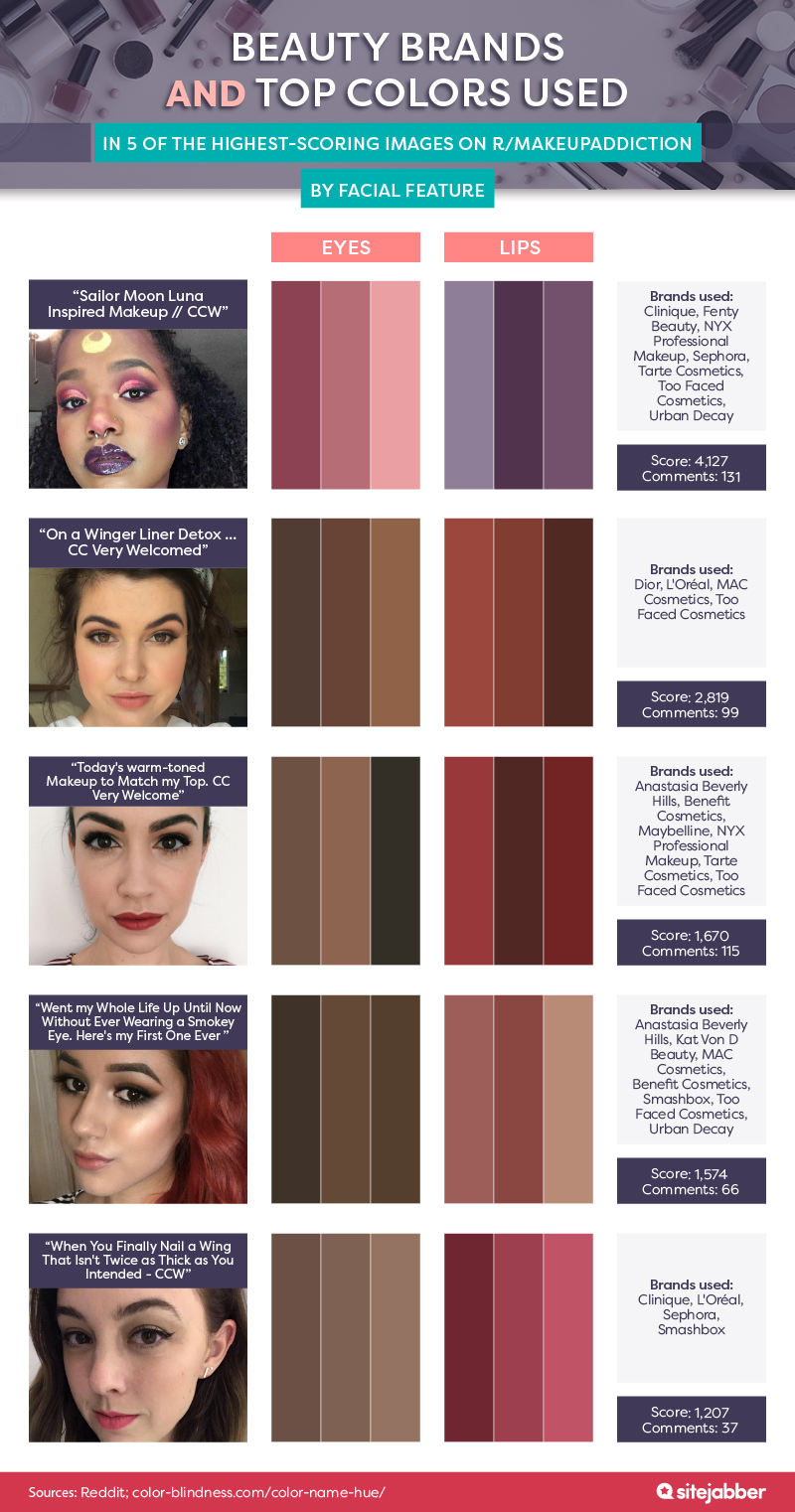 When users on r/MakeupAddiction share their looks or tutorials, other people can vote for them. These are five of the highest-scoring images on r/MakeupAddiction and the beauty brands and colors they used. From their winged liners to a Sailor Moon-inspired routine and even advice on how to create the perfect smoky eye, these posts earned thousands of votes and, in some cases, hundreds of comments.
NYX Professional Makeup, Urban Decay, Too Faced Cosmetics, Benefit, and L'Oréal were among the most popular brands used in these Reddit posts. While some users created bold looks, neutral eyes were more common. Flattering taupe and beige shades help create depth and dimension across these versatile looks (but that doesn't mean you should be afraid to throw in a bold pink if it makes you happy). Lipstick colors range from warm nudes to deep violets and provide the perfect anchor for these versatile looks.
No two skin tones are completely alike, but most of these posts decided to keep their skin makeup more subtle and to go bold on the eyes and lips. A skin-matching foundation with a slight contour to create a sense of symmetry on the face and a light blush were the most popular combinations. Of course, that doesn't mean you can't get away with a powerful sweep of highlighter if you want to.
Laying a Foundation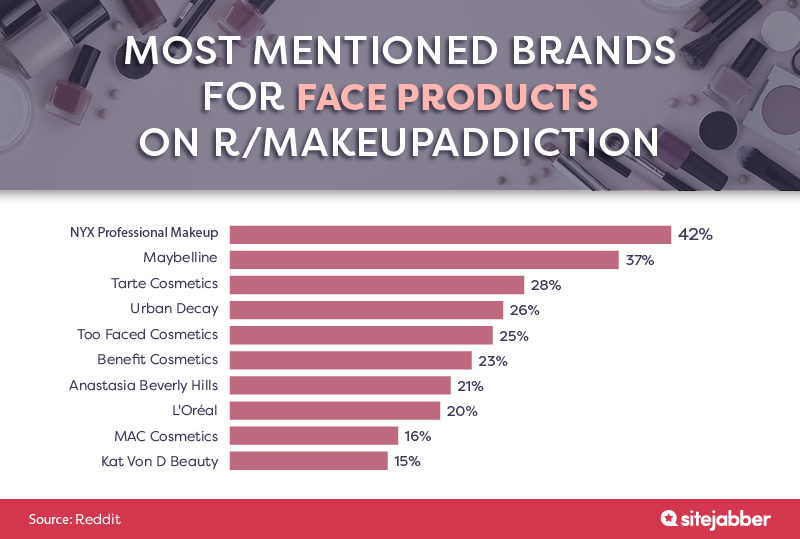 Because everyone approaches makeup differently – choosing to accent their eyes, lips, contour, or brows as a primary feature – there's no one type of makeup that's more important than another. Still, it's fair to say that how you approach your skin, and what you decide to put on it, lays a foundation for the rest of your routine.
From BB creams and CC creams to full coverage and demi-matte finishes, even deciding on a brand or type (not to mention color) of foundation can be a challenge. Most makeup experts recommend switching up your routine as the seasons change, but that can still leave you wondering where to start. Thankfully, websites like Sitejabber will help you break down where to find the best shopping experience, and Reddit can help with the rest.
According to the more than 11,000 images analyzed from r/MakeupAddiction, one brand stood head and shoulders above the rest, appearing in 42 percent of images: NYX. Considered one of the most affordable and underrated brands on the market, there's almost nothing you won't be able to find from NYX – from foundation to blush and virtually everything in between. Gurus even say NYX is a great place to start experimenting if your collection isn't already overflowing or you aren't entirely sure how to approach your personal aesthetic.
Following NYX and Maybelline, the users on r/MakeupAddiction might recommend some more luxe brands for your skin and foundation needs. Tarte Cosmetics, Urban Decay, and Too Faced all ranked among the most popular products for bases, blush, and bronzers.
The Eyes Have It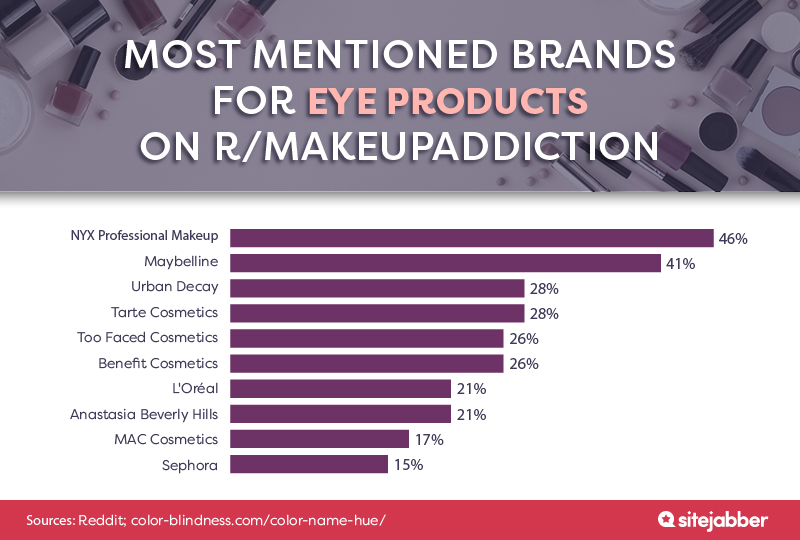 It's been said that the eyes are the windows to the soul, and that could be why finding the perfect eye shadow palette is a pivotal part of most makeup bags. In the quest for your perfect shades, it's probably easy to go a little overboard, but it's important to make sure you're applying those products the right way. What works for one beauty guru on YouTube may not necessarily work for you, and that's largely a result of both eye shape and size.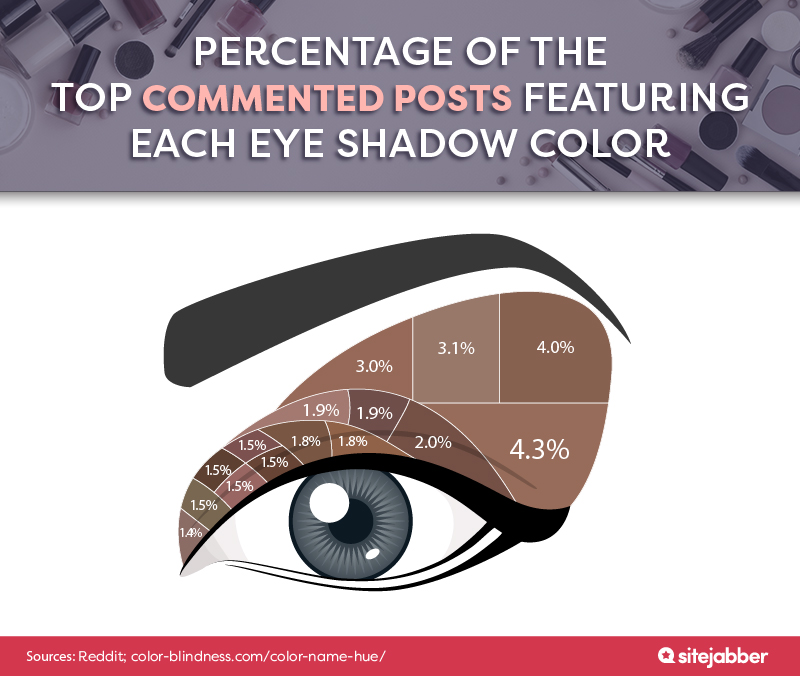 But no matter what look you're going for, there's one color palette you probably can't avoid having in your collection: the perfect nudes. According to the thousands of images analyzed, it was various forms of nude, from light beiges to cool-tone taupes, that ranked among the most popular shades and colors. And while Urban Decay generally gets props for patenting the most quintessential nude palette of them all (appropriately titled "Naked"), it wasn't the most popular eye shadow brand according to r/MakeupAddiction.
NYX and Maybelline pulled in the top two slots for eye makeup, appearing in more than 2 in 5 of all images. "The Nudes" palette from Maybelline and the "Wanderlust" palette from NYX both represent popular collections of shades and shadows at affordable prices and could be a part of the reason so many makeup fans gravitate toward them.
That doesn't mean luxury beauty brands aren't putting out popular eye shadows, though. From the basic to the bold, Urban Decay is known as much for its essential shades as it is for vibrant, over-the-top colors. Appearing in at least 26 percent of beauty images in some capacity, Urban Decay, Tarte, Too Faced, and Benefit were also among the most popular brands for the eyes.
The Perfect Pout
For Kylie Jenner, achieving the "perfect pout" has been key for the young billionaire's success in the makeup industry. Her very first products, lip kits that paired lip liners with liquid lipstick colors, sold out in just one minute when they launched for the first time in 2015.
No matter what's happening in the beauty community, lips are always a part of the trend. From the oversized, over-lined look that helped launch Jenner to a more subtle lip tint or the "your lips but better" look, you probably can't help adding new shades to your collection year after year.
But which brands tend to put out the most reliable products? Once again, NYX takes the cake with appearances in 44 percent of images. NYX and fellow drug-store brand Maybelline do more than foundation or eye shadow – they can help you complete your makeup look with lip products too.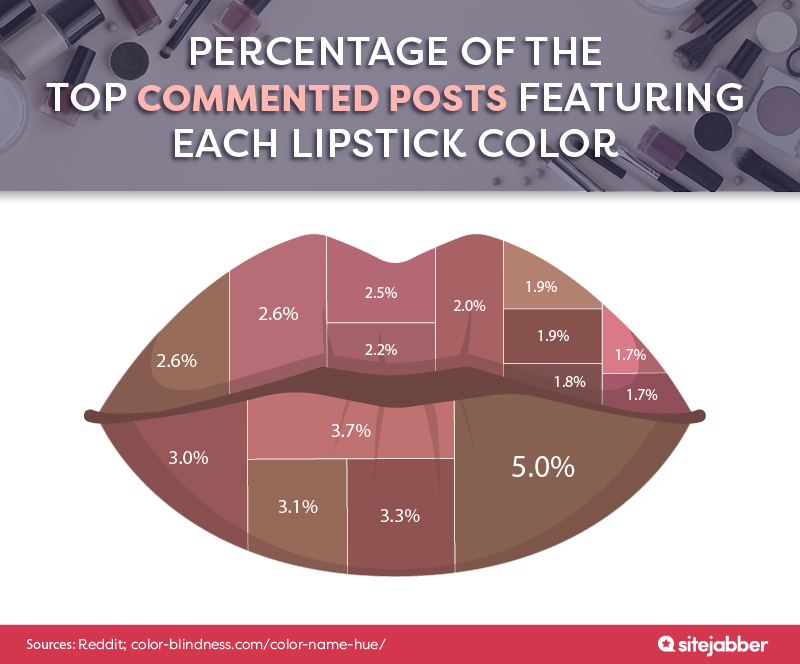 But even if you decide you prefer formulas from designer brands, finding the perfect shade might be more important than deciding what finishes you prefer. Professional makeup artists will tell you the first step is to know your skin's undertones (cool, warm, or neutral) and to work backward from there. Red and orange shades typically work best for people with warm undertones in their skin, while berry tones and mauves blend better with cool tones instead.
A Day's Look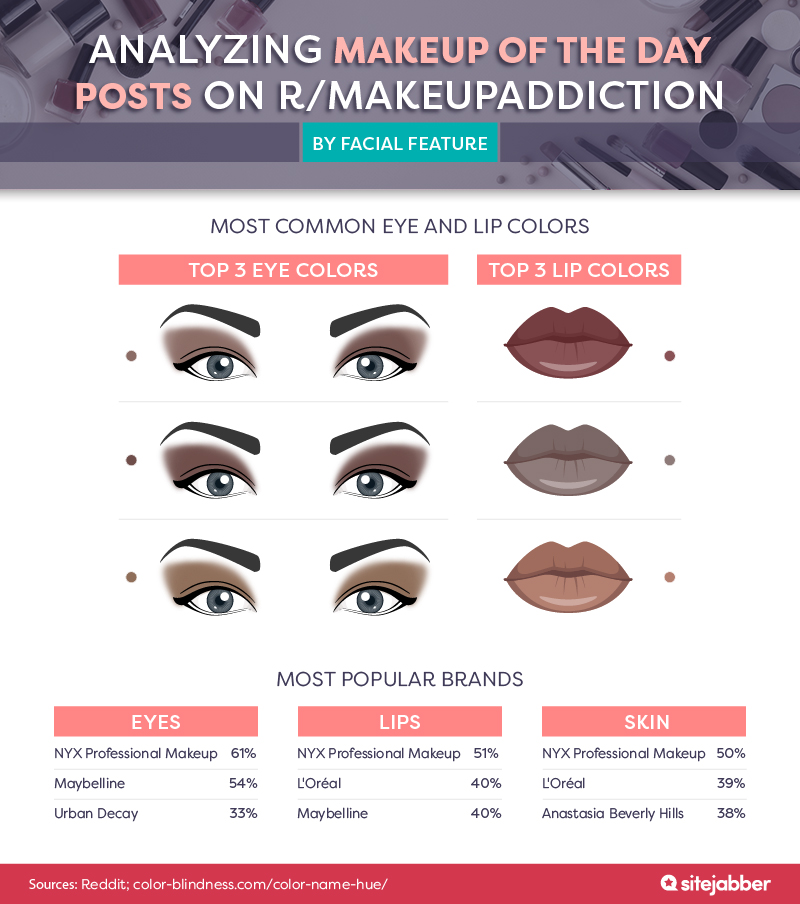 It would probably only take one pass through Sephora to realize just how expensive makeup can be. Skin creams from Chanel, face products from MAC, and eye shadows from Smashbox can be some of the most expensive products on the market.
Affordable makeup exists, though, and as we found, it might be more popular than the products coming from designer brands. Based on thousands of posts analyzed from r/MakeupAddiction, NYX ranked as the most mentioned brand for eye, lip, and skin products in Makeup of the Day (MOTD) posts. Considering the brand makes everything from lip liners to eye shadow pigments, you could easily fill your entire collection with NYX products (thankfully at prices that are sure to delight).
L'Oréal also ranked as the second most mentioned brand in two categories. High-end brands like Urban Decay and Anastasia Beverly Hills landed coveted spots on the lists according to Reddit users as well.
From Day to Night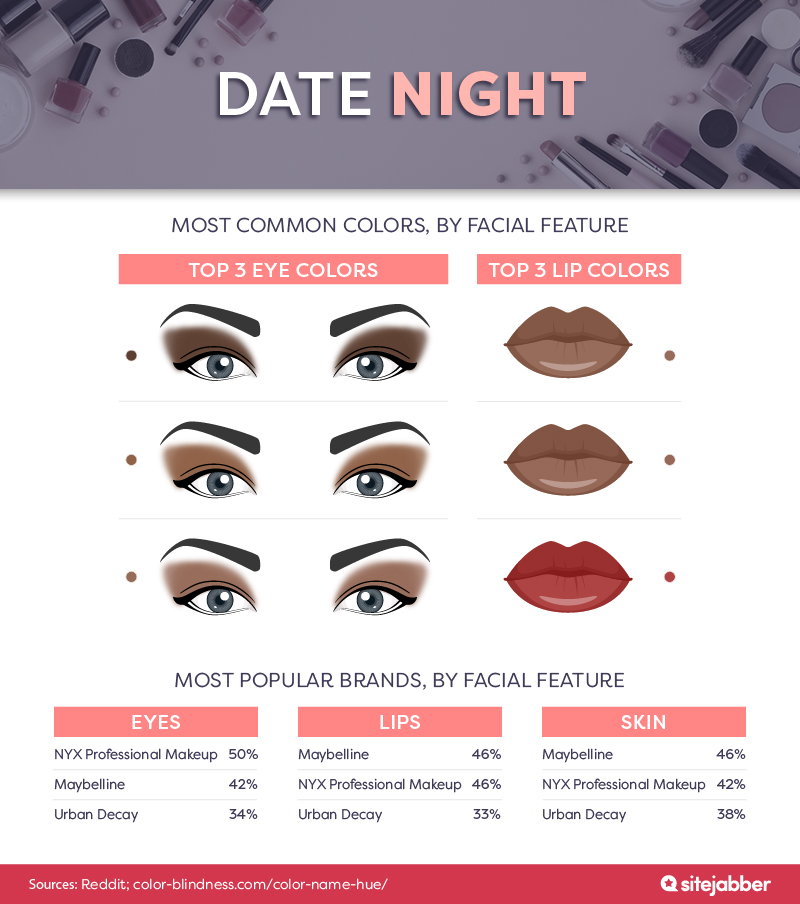 When you're looking for the perfect hues to transition your look from day to night, you won't have to look very hard to find the most popular shades. Like the most popular lipstick colors for daytime wear, evening tones were similar in dimension. With two go-to nude lips and one bold red option, playing up your nighttime makeup routine might be more about a bold eye look than it is about the lips.
While NYX was still the most popular option for eye makeup when people were looking to get dressed up to go out, Maybelline took over the top slot for both lip and skin products according to 46 percent of posts. Maybelline is known today for its ColorSensation lipsticks and Dream Matte Mousse foundations too.
Finding a Less Expensive Option
Finding the perfect makeup shades isn't just a casual pastime – it can be a serious commitment for some. One study found the average woman spends more than $300,000 on cosmetics over the course of her lifetime. That's a lot of dough, and it means that even if we find something we're sure to love, something else is sure to catch our attention.
An easy way to help drive down the costs of high-end cosmetics is to find similar shades from less expensive brands. Typically referred to as "dupes," finding drugstore alternatives to brand-name products is one way the beauty community helps expand collections without breaking the bank.
We found it was dupes for lip products and eye shadow that got most people excited. Compared to a $36 Yves Saint Laurent liquid lipstick or an $80 Viseart eye shadow palette, a $7 alternative from NYX just means you'll have money left over the next time an exciting new highlighter trend makes its seasonal debut.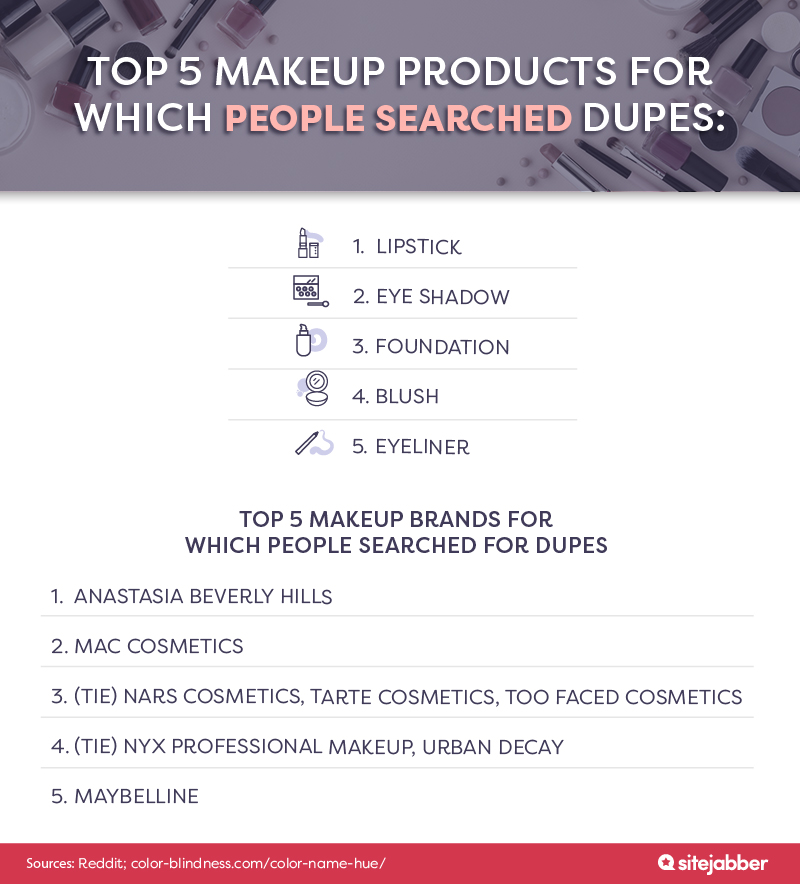 If you're willing to overlook all of the controversy surrounding the Subculture eye shadow palette release, it's easy to see why Anastasia Beverly Hills is the most sought-after brand when it comes to finding low-priced dupes that achieve the same look. From her iconic brow products (DIPBROW pomade, anyone?) to her legendary liquid lip products, there are more than a few products from Anastasia you might want to have in your collection but can't entirely afford to splurge on all at once.
Similarly, some of the most classic names in cosmetics ranked among the most searched for dupes according to r/MakeupAddiction. MAC came in just behind Anastasia Beverly Hills, followed by NARS, Tarte, and Too Faced.
Input From Makeup Fans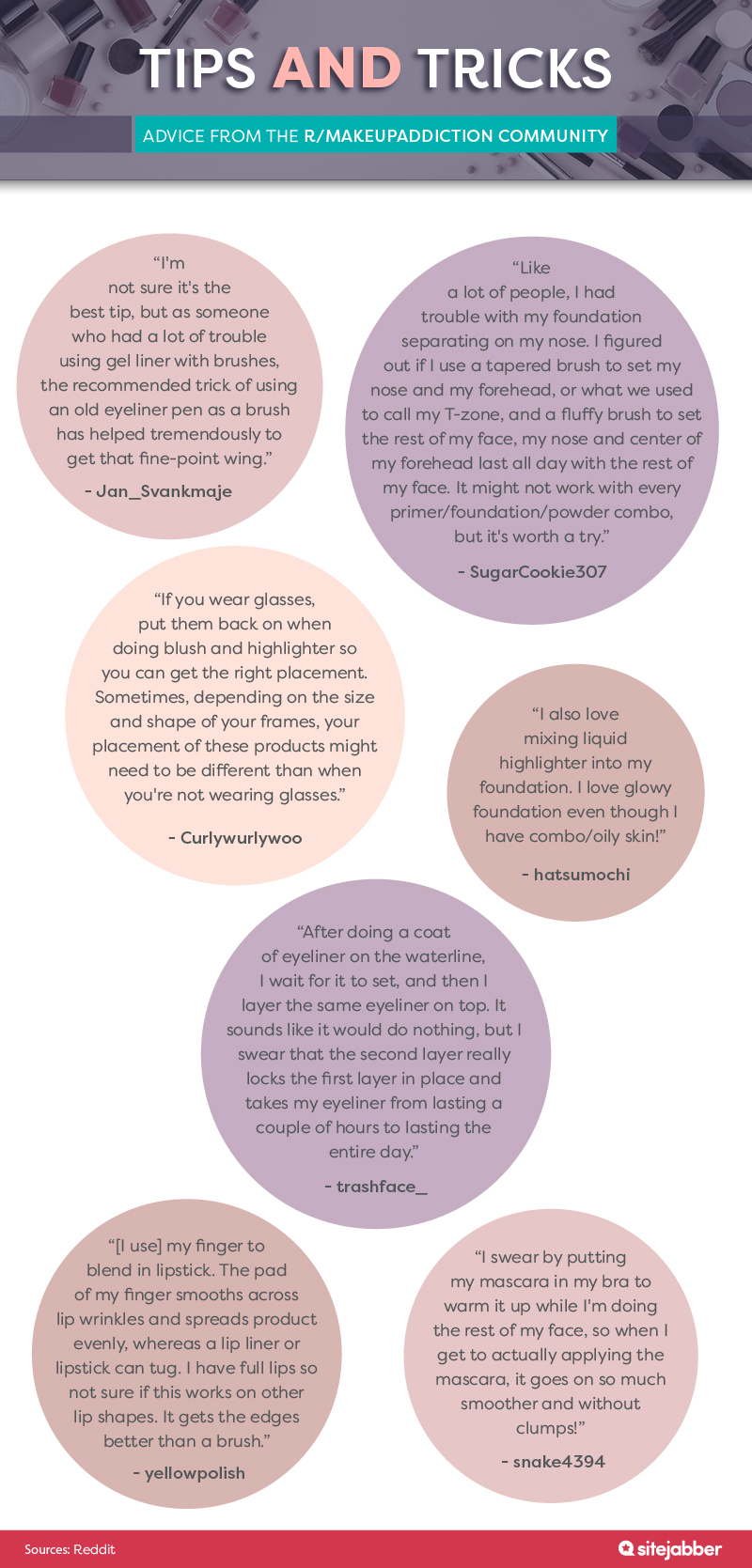 More than finding the perfect products or dupes for popular high-end shades or colors, one of the biggest things makeup communities like r/MakeupAddiction do is offer advice on how to make whatever makeup you have look its absolute best.
Like one person who recommended a better technique for applying highlighter when you wear eyeglasses (put them on when you're applying product so that you can get the best placement) to another who suggests putting your mascara in your bra before applying it, there are plenty of idea out there you probably won't find on the back of the box. Some of these suggestions even target specific needs (like oily skin types), because what works for one person may not necessarily be the best advice for someone else.
Buying From the Best
Spend five minutes at any makeup counter, and the sheer volume of choices might overwhelm you. Multiple highlighters, blushes, foundations, eye shadows, and liners could be perfect for your skin tone and style.
Instead of buying new products that might not work out in the end, though, beauty forums and online communities like r/MakeupAddiction might have the insight you need to make the best-informed decision.
Now that you know what to buy, it's time to decide where to buy it. Sitejabber will help you find the best online and in-store retailers for beauty products whether you're looking for the perfect nude lip or a jewel-toned smokey eye. By compiling thousands of honest reviews from verified shoppers like you, Sitejabber gives you the insight you need to buy from the best. Take a look at what real people have to say about these beauty sites.
Methodology
We pulled over 11,000 unique images from r/MakeupAddiction. We then used OpenCV to pull every face from the images and reran them through OpenCV to pull the eyes and mouth so that we could analyze the colors with mkweb.bcgsc.ca for each image. That allowed us to get the three most prominent colors for the eyes, mouth, and skin with no background colors influencing the results.
We then pulled the comments made by the original poster and ran a text analysis to find the brand names each mentioned using for their picture. We can't say a specific brand was used for a color or location, but we can say the poster claims to use that brand in conjunction with the image and colors in the image. Scoring was achieved by subtracting the number of downvotes from the net number of upvotes on Reddit as of April 11, 2018. When selecting individual posts, we focused on the highest-scoring images with a full-color profile. This means observed eyes, lips, and skin all resulted in three colors being pulled from the images. Photos with multiple faces or less than three in any of the categories were excluded from the top five list.
It's important to note that image color is not necessarily indicative of the makeup colors in stores since lighting and skin tone can influence the end results pulled from the image.
The image analysis resulted in over 45,000 unique hex codes. We used webcolors, a Python module, to determine the closest color match to the hex values found here. This grouped all the unique color codes to approximately 884 color names, which we used to rank and analyze the colors. The colors shown are the matching color to the name using one of the hex codes that match that name.
Sources
Fair Use Statement
Know someone who's always looking for the next "it" look in beauty? Feel free to share the results of this study with your readers for any noncommercial use. Just make sure to include a link back to this page so that they can see the results of our study in their entirety.